Carve 360 Cordless Hot Knife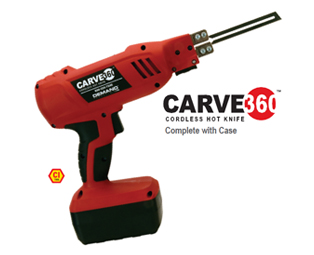 ---
---
Universal Foam Products is proud to introduce the CARVE360™ Cordless Hot Knife. It's designed to handle the rigors of everyday use on a professional job site with a rechargeable lithium-ion battery that supplies 36 volts of long lasting power. No cumbersome power cord means you have the flexibility to move in any direction without worrying about getting tangled up or being able to reach your target.
---
CARVE360™ HOT KNIFE WITH
EXTRA LONG BLADES
• 36 Volts / 190 Watts
• Lithium-Ion Battery Powered
• Includes 4" & 6" Blades, Custom Blade Adapter, Wire Brush & Hex Tool and Case.
• Variable Heat Control
• Lightweight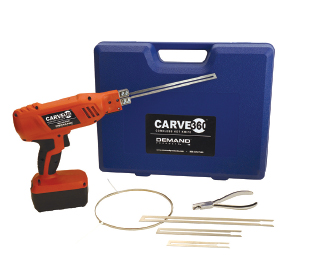 ---
CARVE360™ HOT KNIFE WITH
EXTRA LONG BLADES
• CARVE360™ Hot Knife
• 4", 6", 8" & 10" Hot Knife Blades
• 3 Feet NWFW Flat Wire
• Wire Crimping Tool
• Carry Case
---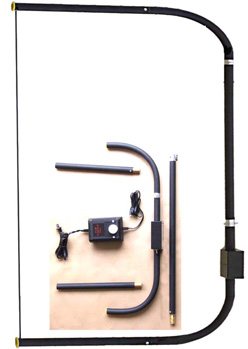 ---
---
2′ and 4′ Hot Wire Blades
Convenient power switch right on the tool
3 included snap-clamps so you can turn this into a workbench cutter to accurately slice foam.
Quickly collapses for easy storage
Note : This tool is for light duty only. It is not recommended for large construction projects
---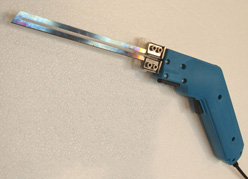 ---
Industrial 6″ Hot Knife
Unlike the cheaper models (with the same price tag) the new 6″ Industrial Hot Knife can be used continuously for periods of up to 45 minutes, and much longer if turned off between cuts. It is lightweight, solid state (the power supply is right in the handle), has a replaceable 6″ blade, variable heat settings, and a 10 foot power cord.
---