Think there's only a few uses for Universal Foam's EPS Products? Think again.
Expanded polystyrene (EPS) is one of the most versatile materials in the world. Easily shaped, waterproof, and an excellent insulator, it's also lightweight and bonds instantly with paint. That's why EPS is perfect for any project that calls for top notch, top quality materials. Whether you need to create a massive diaroma or a pitcher's mound for your indoor sports complex, EPS and Universal Foam are ready to serve your needs.
Sculptures
If you're looking to add a sculpture to your business, trade show booth, or home, Universal Foam can provide the artistry you need. Life-size mockups of your company logo, products or building projects can be created using EPS, with each sectioned, cored and machined to your exact specifications.
Cake Displays
Displaying a scrumptious cake in your business or at a trade show can be a challenging proposition, not to mention an expensive undertaking. EPS is an excellent alternative for cake displays because it's lightweight, inexpensive, and durable. Tiers are available in different sizes and shapes, which allows for customization, producing an exact copy of your product.
Crafts & Hobbies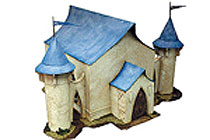 Constructing your favorite craft and hobby objects can be a relaxing and challenging pastime. EPS is available in sheets, blocks, and various shapes and can be incorporated into your hobby in a variety of ways. Lightweight and durable, EPS has a very smooth surface, which adheres quickly and easily to water-based paints and to a host of different fabrics and other materials. Perfect for train gardens, miniature displays, and historical dioramas.
Indoor Pitching Mounds
Today's athlete conditions and trains year round, and pitchers are no different. In order to replicate the experience and motion of throwing from a regular dirt mound, our indoor pitching mounds are constructed of EPS and provide a realistic slope for the pitcher. Designed to be portable, EPS pitching mounds are lightweight and easy to set up.