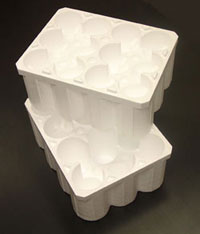 12-pack Wine Shipper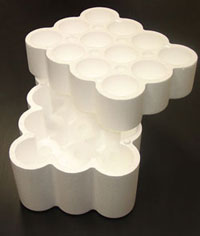 12-pack Magnum Wine Shipper
Yeah, we have a cooler for that.
Whether you are transporting refrigerated goods across town or shipping valuable wine across the country, coolers and shippers made of expanded polystyrene are perfect for the job. EPS can be molded to fit any demand, and its lightweight nature makes transportation safe and easy.
Wine Shippers
Wine shippers are used to protect your wine in transit. These FEDEX approved shippers are lightweight and strong. Each shipper includes its own corrugated carton for added protection.
Call for quote in your area : (410) 825-8300
Stock Molded Coolers, Bottles, cans, and medical containers are available in a variety of shapes and sizes – and finding the right cooler to fit them is easy, thanks to Universal Foam. Once you've determined your requirements, check with us for stock coolers to meet your needs. Custom made coolers are also available.
EPS Specialty Bottle Shippers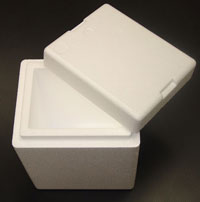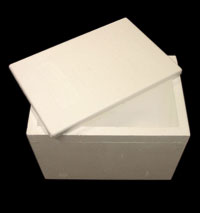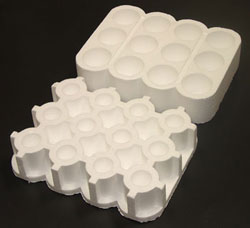 375 ml Bottle Shipper
Standard Cooler Sizes — Ready to Ship

Inside Dimensions
Thickness
Capacity
L"
W"
D"
(in.)
(qu.)
(ft3)
7.75
5.62
8.50
1.5
6.68
.23
6.00
6.00
3.87
1.5
2.4
.09
5.43
5.00
8.00
1.37
3.76
.12
9.50
7.12
4.25
.62
4.56
.15
L"
W"
D"
(in.)
(qu.)
(ft3)
6.93
5.00
3.00
1.5
1.8
.06
L"
W"
D"
(in.)
(qu.)
(ft3)
10.25
7.37
6.75
1.5
8.88
.30
12.87
8.81
9.00
1.5
18.24
.62
L"
W"
D"
(in.)
(qu.)
(ft3)
21.87
15.25
15.25
1.12
88.08
3.04
L"
W"
D"
(in.)
(qu.)
(ft3)
14.00
13.00
10.12
1.5
32.96
1.11
L"
W"
D"
(in.)
(qu.)
(ft3)
12.87
10.87
8.75
1.50
21.20
.82
14.75
12.75
9.50
0.75
30.92
1.13
L"
W"
D"
(in.)
(qu.)
(ft3)
9.62
9.62
6.00
1.5
9.62
.33
9.62
9.62
1.75
1.5
2.81
.09
L"
W"
D"
(in.)
(qu.)
(ft3)
15.50
13.00
6.87
1.00
24.00
.83
25.50
15.50
8.00
1.00
55.56
1.93
L"
W"
D"
(in.)
(qu.)
(ft3)
14.50
14.50
7.12
.87
25.92
.91
19.00
12.37
8.75
1.50
32.98
1.31
L"
W"
D"
(in.)
(qu.)
(ft3)
21.37
11.75
4.75
1.00
20.65
.69
L"
W"
D"
(in.)
(qu.)
(ft3)
7.25
7.25
9.25
1.00
8.43
0.282
L"
W"
D"
(in.)
(qu.)
(ft3)
19.75
8.12
3.62
1.50
5.86
0.196
L"
W"
D"
(in.)
(qu.)
(ft3)
8.00
6.00
7.00
1.50
5.81
0.194
L"
W"
D"
(in.)
(qu.)
(ft3)
9.50
7.12
7.75
0.62
9.08
.30
L"
W"
D"
(in.)
(qu.)
(ft3)
20.38
13.00
14.00
1.50
L"
W"
D"
(in.)
(qu.)
(ft3)
7.75
7.50
9.25
1.0
L"
W"
D"
(in.)
(qu.)
(ft3)
15.09
9.35
4.5
1.0
L"
W"
D"
(in.)
(qu.)
(ft3)
8.5
10.50
6.75
1.5