STYROFOAM™ Brand Insulation and Foam versus Expanded Polystyrene (EPS)
STYROFOAM is often used to refer to expanded polystyrene even though the materials are completely different.
STYROFOAM™ is a registered trademark of the Dow Chemical Company ("Dow") or an affiliated company of Dow. The trademark covers a full range of extruded polystyrene building products used primarily for insulation of floors, walls and roof systems. The insulation panels are commonly referred to as "blue board" in the construction industry. Most often the word STYROFOAM™ is used as a generic words for expanded polystyrene foam like cooler and packaging materials and disposable coffee cups.
Dow Chemical's STYROFOAM Brand Foam also covers a full range of foam products for the floral, craft and special events industries. These products are available in sheets, blocks, spheres, cones and many other shapes. They are available to the consumer from major craft and floral retailers throughout the country.
Expanded Polystyrene (EPS), is the generic industry name for a white rigid material made by expanding polystyrene beads with steam and bonding the beads together under pressure in a block or shape mold. EPS is used in the construction industry for insulation and void fill. It is also used in a variety of packaging applications including coolers, wine shippers, molded end caps and corners. It can be cut into an unlimited variety of shapes.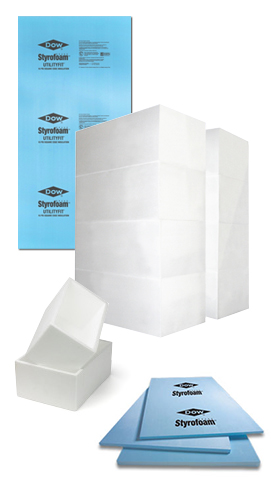 We can provide BOTH EPS and STYROFOAM Brand Foam for your project
Universal Foam Products sells expanded polystyrene (EPS) as well as STYROFOAM Brand Insulation for construction and STYROFOAM Brand Foam products for the floral, craft and special events industries. EPS is shipped from over 100 different manufacturing facilities throughout the United States. STYROFOAM Brand Insulation and STYROFOAM Brand Foam products are also shipped from several different locations.
Still not sure which product you need for your project?
Call us today and speak with an expert foam associate at Universal Foam Products. We will provide you with a FREE quote and answer any questions you have about selecting the proper EPS or STYROFOAM Brand Foam product for your project. Call (410) 825-8300 or send us an email at [email protected].